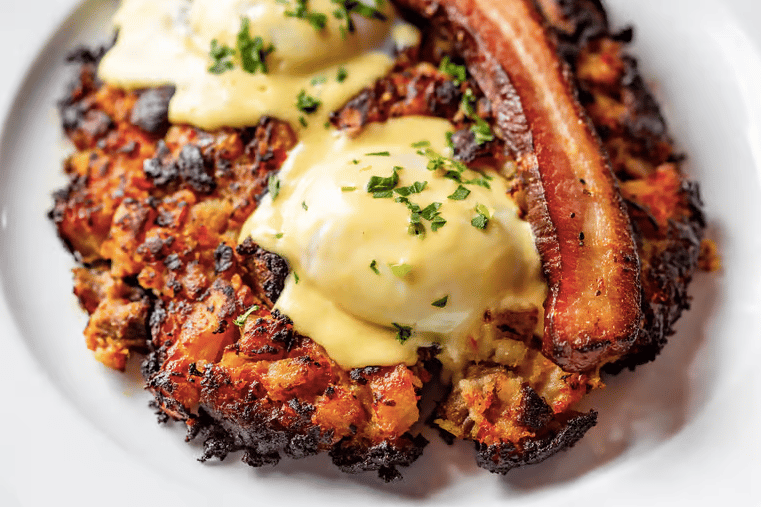 Houston's Best Brunch Spot
Houston's Best Brunch Spot
Houston's Casual Brunch You Must Try At Least Once
Have you tried the best brunch in Houston yet? Everyone who has had the pleasure of dining at Houston's one and only B&B Butchers is able to feel out a notable secret to the restaurant's success: founder Ben Berg took a lifetime of dedication to the service industry, kept all of the best parts of fine dining, then threw out everything customers don't like. The result is still best-in-class service, an unbeatable gourmet kitchen, and a posh atmosphere, but minus all of the many stuffy elements at like-minded restaurants that prohibited – for decades – people from truly being able to relax.
This is how Berg Hospitality turns regular, first-time customers into loyal patrons every single day. You will never find dated wood-paneled walls at B&B Butchers while maître d's gripe about not loosening your tie too much or failing to don a finely pressed sportcoat. The place threads the needle of staying high-end while managing to remain remarkably casual.
We'll prove to you why Houstonians must try the casual brunch at B&B on Washington Ave at least once!
Houston's Long-Running Downtown Houston Brunch
Even if dining in the evening isn't your preferred style (let's say you're more the type to just roll out of bed and expect some Prime Rib Hash Browns), B&B Butchers offers their famous Sunday brunch from 11 am until 3 pm, and minus the reservations part, it's a laid-back affair (hey, if we didn't take reservations, you'd be standing in line outside for hours). Try one of the mouthwatering B&B handhelds, like the Hill Country Burger (Texas smoked sausage and BBQ mayo) or Truffle Burger (3 onion jam and truffle butter and aioli).
For lighter brunch favorites, indulge in the Coconut Crusted French Toast or Apple Crisp Waffle with pecan and bacon crumble. To go more hearty and savory, order the Maryland Benedict with jumbo lump crab cakes or our Gorilla Bread with sage sausage, poached eggs, and hollandaise.
For years, this downtown Houston brunch spot has been going strong, and it all comes down to people loving everything about it.
Read more: Do you by any chance live in the DFW area? B&B Butchers owns and operates a second Steakhouse and Butcher Shop in Fort Worth where you can experience the same impeccable service and many of the same dishes that made B&B such a renowned Houston treasure.
B&B's Sunday Brunch Gets Booked Way in Advance
We don't want to brag, but getting a table these days at B&B's beloved Sunday brunch can't always be a last-minute accomplishment. Like obtaining many of the greatest things in life, you'll need to plan ahead and secure a table well in-advance, especially if you want to dine with a killer rooftop view on the patio overlooking the Houston skyline.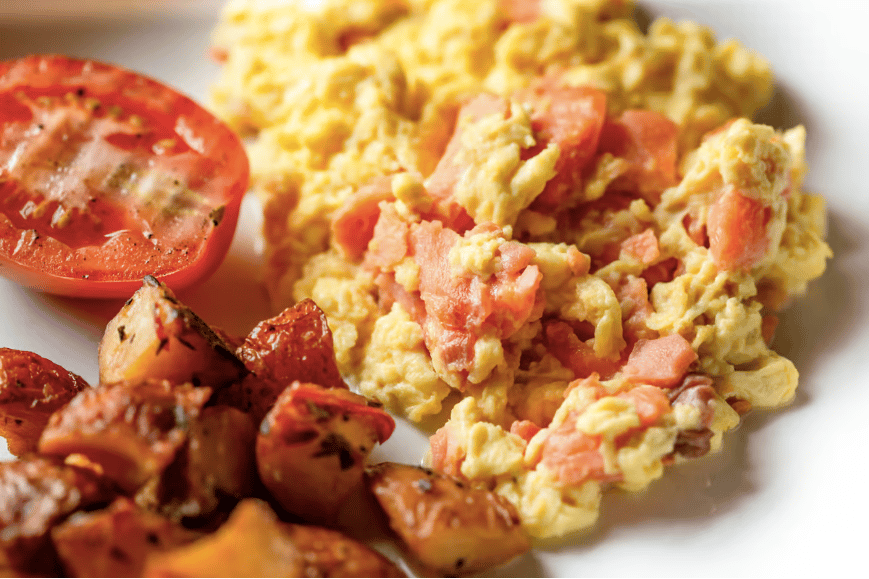 Green Goldie Lox: scrambled eggs w/ smoked salmon
So go ahead, make your next B&B Butchers Reservation now to experience what a great casual brunch is all about!