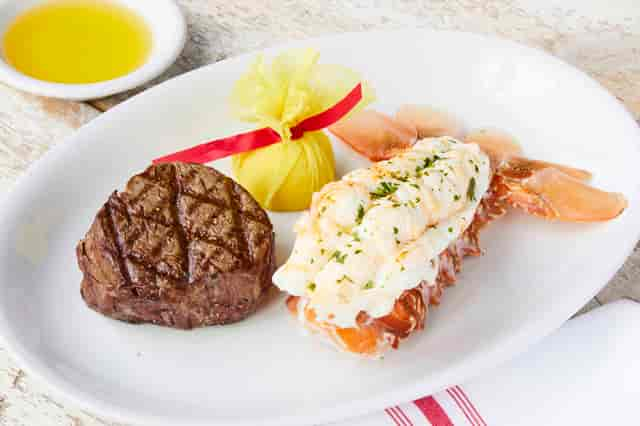 Dinner Take-Out Specials
Dinner Take-Out Specials
The below specials are not available for dine-in guests - these are only offered for take-out or curbside pick-up. Please call 713.862.1814 (HOU) or 817.737.5212 (FW) to place your order.

DAILY TAKE-OUT SPECIAL
B&B's Pre-Cooked Steakhouse Dinner is the perfect meal! Offered daily for $55/person, this meal includes the choice of 1 appetizer, 1 entrée and 1 dessert. It also comes with 2 sides: Garlic Whipped Potatoes & Classic Creamed Spinach.
PRIME RIB WEDNESDAY
Every Wednesday from 11am-8pm, enjoy our newest prime rib special for $39. The meal includes prime rib with au jus, Yorkshire pudding, fully loaded mashed potatoes, side house salad, and a choice of NY cheesecake or bread pudding.
RIBEYE FEAST FOR A KING THURSDAY
Every Thursday from 11am-8pm, enjoy our newest ribeye feast special for $75. The meal includes a 22oz Bone-In Ribeye w/ King Crab topping – Oscar or Scampi style, choice of iceberg wedge salad or brisket ravioli, plus classic creamed spinach & garlic whipped potatoes.
SURF & TURF FRIDAY
Every Friday from 11am-8pm, enjoy our newest surf & turf special for $69. The meal includes a 10oz filet & a 5 oz lobster tail w/ drawn butter, choice of Caesar salad or sizzling thick cut bacon, classic creamed spinach plus a choice of lobster mac & cheese or lobster potatoes.
Butcher Shop Specials
STEAK KIT DINNER FOR TWO*
$65 - Entrée (Choice of 1/person) and Fresh Produce. Includes 1 lb of asparagus & 2 russet potatoes, 1 head of iceberg lettuce, 1 tomato, plus blue cheese dressing & bacon lardons to create the perfect wedge salad!
ULTIMATE PICNIC BASKET*
$149 - A woven basket filled w/ a cheese plate & knife, 3 assorted Houston Dairymaids cheeses, sliced prosciutto, strawberries, jam, crackers, chocolates, wine cups & choice of one wine. Upgrade options available for wine & Jamon Iberico. Call for more information.
*Both are made to order. 24-hour notice required.
Call 832.767.4828 to order in Houston or 817.731.5360 to order in Fort Worth.
Cocktails To-Go

Now available to purchase in The Butcher Shop or to add to any curbside pickup order, these are mixed and ready to go! Each cocktail serves approximately 2-4. Call 817.737.5212 for Fort Worth & 713.862.1814 for Houston to place your order today!
View Cocktails Offered by Location: